INSPIRATION FOCAL POINT
Inspiration's newest series spotlights the humanitarian efforts of our ministry partners across the country.
Daily news headlines blare with messages showing that our nation needs prayer and hands-on outreach from Believers like never before. City-by-city, churches and ministries across the country are heading the call, forging humanitarian efforts that deliver the good news of the Gospel beyond the four walls of the church in a practical, impactful way. Inspiration is well aware of your efforts, and we want to let our 58 million U.S. television subscribers in on this, too.
Our latest offering for Inspiration ministry programmers is the public affairs series, "Inspiration FOCAL POINT." This program highlights the good that churches and ministries are doing through humanitarian efforts locally, nationally, and in some instances, internationally.
INSPIRATION IN ACTION
Inspiration recently turned its lens on internationally known minister and best-selling author Joel Osteen during his historic "Night of Hope" event in New York City at the new Yankee Stadium – the first non-baseball event at this new, legendary ballpark.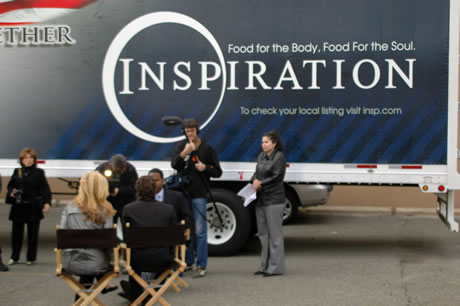 Behind the scenes with Joel and Victoria Osteen
We dispatched our world-class production team to produce a television special highlighting the awesome undertaking of Joel Osteen and his ministry team to affect the community and serve the people. The special gives viewers a behind-the-scenes look at Joel Osteen, and his wife, Victoria, as they:
– Partnered with Feed the Children to deliver more than 300,000 pounds of food to the – Queens and Washington Heights areas of New York City.
– Broke bread with local pastors and city leaders at a pastor's luncheon.
– And delivered a message of hope and inspiration to more than 40,000 people at Yankee Stadium.
Inspiration also provided marketing support, sponsoring a semi- wrap of the Feed the Children truck that delivered the food to the city's less fortunate.
There are countless untold stories like this across the nation. The next installment of this powerful series could be about your ministry.
Inspiration Focal Point is created by our award-winning team of producers, writers, and editors with NO ADDITIONAL COST to you.
Let Inspiration partner with you to raise national awareness of your church, ministry, and humanitarian outreaches. Together, we can join forces for the greatest purpose of all: to impact the nations with the knowledge of the Glory of the Lord.
For more information on this valuable ministry tool, call 888.207.4447.