The nation needs the Gospel. The Inspiration Networks wants to partner with ministries like you to bring the message of Christ to homes throughout the U.S. on INSP – The Inspiration Network. A recent American Religious Identification Survey from Trinity College in Hartford, Connecticut found that America is a less Christian nation than it was 20 years ago.
COMPETITIVE EDGE
-Our investments in new technologies and new approaches will lead to continued growth for INSP, and more exposure for your ministry
-INSP has top channel position in the religious category on both DISH and DIRECTV.
DISH – Channel 259
DIRECTV – Channel 364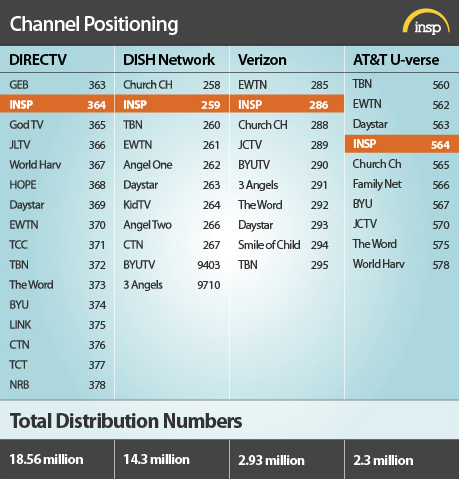 SOURCES: DISH Network, DIRECTV, SNL-Kagan and Verizon FIOS
-Our competitive rates and expansive distribution platforms give our ministry partners a wide variety of opportunities to share their message with an engaged, responsive audience
-INSP's home base is The Inspiration Networks' new state-of-the-art City of Light campus, located just outside Charlotte, NC
– The City of Light is the base for INSP and its ministry partners to reach the world for Christ through TV specials, conferences, faith-based entertainment, and more.
STRENGTHENING YOUR BRAND THROUGH INSP
-INSP employs marketing, public relations, and creative staff whose main priority is to identify multi-platform opportunities to strengthen your ministry brand and place you in front of high impact viewers
– A variety of marketing and public relations strategies are planned and executed annually to increase awareness of our ministry partners on INSP
– INSP has placed advertisements in some of the leading faith-based and mainstream platforms in the nation, including Charisma Magazine, Gospel Today, and Black Gospel promo and cross channel spots on leading cable and satellite providers
– INSP is a leader in connecting our distribution and ministry partners to explore targeted, branded ministry opportunities that can place your ministry client in front of responsive viewers
AWARD-WINNING PROGRAMMING
-INSP's current line up of ministry programmers include some of the most respected faith leaders in the world
– In addition to ministry programming, INSP and Inspiration TV features an array of award-winning programs for the entire family – men, women, kids, and teens – ranging from daily talk shows, to cartoons, and action sports
– INSP maintains a high production value using the latest technology, equipment, and broadcast quality graphics
– The quality of INSP's programming and overall on-air look is created to engage and maintain viewership